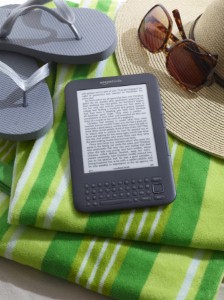 Digital publishing is now a mature, thriving industry, and yet many still insist that publishing is declining. While printed book sales dropped slightly between 2008 and 2012, eBook sales grew at an astonishing rate during that same time. Just as hand-copied books were revolutionized by the printing press, digital technologies are transforming print publishing.
Interactive
The bestselling eBooks tend just printed books that have been converted to digital format, but this will change as eBook publishers start to differentiate themselves with interactive content. Many readers are moving from single function e-readers to more capable, multifunctional devices. This gives rise to opportunities to be innovative with the reader experience. This could be by including multimedia, such as video, games, slideshows, cartography, or photography, or by leveraging the devices' internet capabilities.
Social
Digital publishing offers a new way to participate in communities where readers can discuss what they're reading. Instead of traditional book clubs, online communities are starting to form around the various digital publishing platforms. People from around the world with common interests are coming together to share related content. This is in a sense extending the author's relationship with its readers, keeping them engaged with ideas from the book.
Distribution
Demand for information has increase to a level that print publishing cannot meet. It is easier to download a newly released magazine today than wait for it on the mail for three days. And while digital publications are typically sold at a lower price per unit, profit margins are much higher. Digital distribution can create millions of copies in the time it takes a printing press to print a few hundred thousand and without the high operating and material costs. The investment is in the author, the design, and the content, not the warehouse and shipping.
However, when making the move to distribute publications digitally, authors, publishers, and content owners often worry about the threat of piracy and lost revenue. This is why it's important to consider protecting content with document security. There is, however, a delicate balance between adequately protecting that publication and providing a positive reader experience. Some DRM solutions can make access to protected content unnecessary complex, and thus deter your readers.
Check out our white paper: Beyond DRM – 6 steps to great reader experiences to explore this issue in detail and learn about the advantages that a good DRM solution can provide.