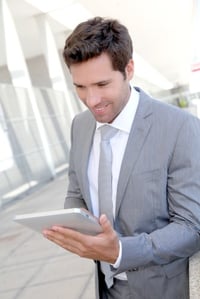 One thing is clear, online document readers have strong opinions about DRM and how much security is tolerable. Surveying comments on Adobe's ePublishing blog, we found several interesting posts that reflect common attitudes to DRM. Bill McCoy, General Manager of the ePublishing Business at Adobe sums up the middle ground in this debate:
"There needs to be enough [document security] for an average internet user to access the document." He goes on to say, "I [think we need to] soften the rough edges of DRM – when publishers deem it necessary at all – so it becomes more of a gentle reminder, a way to help "keep honest people honest."
Security considerations are similar in the retail sector. We are all familiar with the systems used by stores to combat shoplifting. Product tags and alarms deter shoplifters and are of little or no inconvenience to honest shoppers. However, the more deterrents stores put in place, the more aggravation they cause their customers.
Unlike retailers, though, online publishers have a continued interest in controlling document use and access after they've authorized its use. When content owners make their electronic content available, they effectively grant access to a reader whom they can't be sure will use it as was intended once the transaction is completed.
People who download documents certainly like to share them. In a recent study of over 1,000 US Internet users, 89% of adult Internet users indicated that they share email content with others, with 75% sharing content with up to six other recipients. In a study by Bitpipe Inc., an online content syndication firm, 77.8% of professionals who downloaded white papers and case studies reported that they passed them on to colleagues, and 75% of them saved them for future reference.
Clearly, the distribution of digital content is seldom limited to its original, authorized users. While this is a matter of concern for content owners, it is also an opportunity - you stand to gain a great deal from understanding both the way your documents are shared and the people they are redistributed to. But how can publishers limit the use of content to authorized users while exploiting the potential benefits of document sharing?
Page-level document security
One consideration is the nature of document protection itself. Most document publishers protect the entire document. Once a document is secured, even if it can be passed from an authorized reader to an unauthorized reader, it is rendered useless – it can't be browsed or experienced in any way.
With a good DRM solution, document security can be handled differently. A document, like a book, is a collection of pages. Many document owners benefit from being able to secure a document while leaving certain pages unprotected. With this approach, when readers receive a new document, they have access to enough content to decide whether or not to pay for access to the rest of the document. In this way, page-level document security can enhances the experience of authorized and unauthorized readers by allowing re-distribution and sampling of documents.
You, meanwhile, are saved the trouble of creating a separate, limited version of the document for marketing purposes. In addition, content security can further your business needs long after the documents themselves have been initially distributed. For example, you can learn more about their potential audience by embedding online surveys in parts of a document available to unauthorized readers.
This was an excerpt from our white paper: Beyond DRM – 6 Steps to Great Reader Experiences. You can read the full white paper here.